USA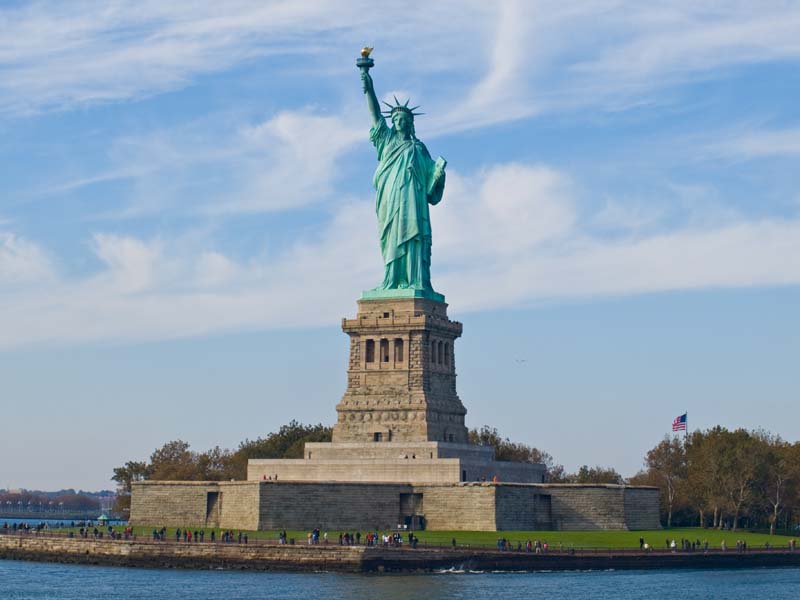 The Country
USA needs no introduction as it is one of the most popular countries both educationally and travel wise. It is talked of as the land of dream fulfillment, of cutting edge quality, of mega bucks and of life as you want it to be. The US market is home to around 4 per cent of the world 's population, approximately 273 million people. It is the fourth largest geographic area and covers 4 time zones - 6 including Alaska and Hawaii. It has an integrated and largely self-contained economy and every major industry is represented.
Geography & Climate
USA is country which enjoys a cool climate almost round the year. The USA shares its borders with Mexico in the south and Canada to the north. To the west is the Pacific Ocean, to the south, the Caribbean and Gulf of Mexico; to the east, the Atlantic Ocean. The geography of the USA is hugely diverse ranging from glacier and tundra to sub-tropical forest and desert, vast plains and lofty mountain ranges.
Currency
The official currency of USA is Dollar. The symbol is US $.
Education
USA boasts of one of the best education systems as far as higher education is concerned. No wonder it is the favorite amongst international students, especially Indians. The U.S. educational system is very different from its Indian counterpart. U.S.A. has more than 3,300 accredited colleges and universities, which offer a wide range of graduate and undergraduate programs.
Major Cities
New York, California, Washington, Los Angeles, Boston, Chicago, San Francisco.
Culture
The American culture is very forward in its views. Americans are constitutionally guaranteed freedom of worship; dominant faiths include Protestantism, Catholicism and Judaism, among others. American English encompasses a multitude of regional accents of differing degrees of intelligibility. Modern American culture is a juicy burger of mass culture garnished with 15 minutes of fame.
Why Study in USA ?
As a prospective student planning to study in the United States, it is but natural to have many doubts.
Should I study in the USA or any other country?
Why have so many of my seniors went to US and not other countries?
What and where should I study?
Will it be more expensive than studying elsewhere?
Will I get employment after studies?
Can I stay back permanently in USA?
We will clarify all your doubts in this section. First, US is the best destination in the whole world, for higher education in the fields of science, technology and management. No other country extends its arms as widely as the US, to welcome international students. This is reflected in the fact that US hosts more international students than any other country in the world. A total of 6, 71,616 students went to the US to study there in 2008-09, which is an increase of 8% over the previous year. And USA attracts 23% of all International students, whereas Australia is attracts approx. 5.44 lakhs and UK next with 3.42 lakh international students. Germany and France are the other countries that attract 11% and 10% international students.
These international students from every continent in the world choose to study in the US because they believe that a US education would afford them the best preparation for their future. They leave homes, families and friends in order to pursue their dreams of an education in the US. In fact, International students who study in the US contribute more than $17.8 billion to the US economy!

US universities, US colleges and US schools consistently rank very high in world rankings, just one of the reasons to study in the US. Schools such as Harvard University, Stanford University, MIT, etc. are all world famous and welcome international students. The US offers international students the most exciting, rewarding and comprehensive array of study options in the world. International students who choose to study in the US have almost unlimited study choices.

Furthermore, international students who successfully complete their US study are highly sought-after by employers worldwide. While the reasons international students choose to study in the US vary from student to student, some of the main reasons why students choose USA education are summed up below .
Academic Excellence – Best Universities:
The United States has one of the world's finest university systems, with outstanding programs in virtually all fields. At the undergraduate level, excellent programs exist in traditional disciplines, as well as in professional fields. At the graduate level, students have the opportunity to work directly with some of the finest minds in their field of study, with the chance to become involved with exclusive research and educational opportunities. U.S. degrees are recognized throughout the world for their excellence. Around 80% of the research all over the world is being conducted & funded in USA by various universities & companies in USA. The no of noble laureates from USA is a testimony to it.
Variety of Educational Opportunities
USA has several thousand colleges and universities, boasting at least ten times as many campuses as in any other country. As a result, the higher education system in the U.S. has something for everyone. Some U.S. colleges and universities stress broad educational principles; others emphasize practical, employment-related skills; and still others specialize in the arts, social sciences or technical fields. As a result, students have a variety of options and educational opportunities if they are looking for a particular field.
Cutting-Edge Technology
Universities in the U.S. pride themselves on being at the forefront of technology, research and techniques, and in making the best possible equipment and resources available to their students. Even in other fields apart from science or engineering, student's have opportunities to become skilled in using the latest technology to conduct research, as well as obtain and process information. Students get an opportunity to be connected with researchers, teachers and experts in their fields from all over the world.
Opportunity for Research
Students have an opportunity to gain valuable experience through teaching and/or research while pursuing their education in the U.S., especially for students pursuing their masters. Many graduate programs offer training and teaching opportunities that enable students to become teaching assistants to undergraduates and/or research assistants on special projects exploring different aspects of your field of study.
International students are some of the most valued teachers and researchers in U.S.universities because they bring new skills and ideas to the classroom and library or laboratory. This practical component of USA education proves very useful for students for future career, and gives insights into areas or spheres of their field that would not be possible through course study alone.
UNIVERSITIES IN USA
United States of America
Alfred University
Alliant International University
Amercian International College
American College of Commerce and Technology
Arcadia University
Argosy University
Arizona State University - Tempe
Arkansas State University
Ashland University
Aviation institute of Maintenance
Ball State University
Baylor College of Medicine
Bellevue University
Benedictine University
Berkeley College
Black Hills State University
Bloomfield College
Boston University
Bowling Green State University
Bradley University
Brandeis University
Brescia University
Brigham Young University
Brown University
Buena Vista University
California Baptist University
California Institute of Technology
California Lutheran University
California State University – North Ridge
California State University – San Marcos
California State University San Bernardino
California State University, Stanislaus
Campbellsville University
Captial University
Carnegie Mellon University
Case Western Reserve University
Central Missouri State University
Central Washington University
Centralia College
CEPAS (Centre for English Proficiency and Academic
Success) at Florida Southern College
Chaminade University
Chicago State Univ
City University of New York City College
City University of Newyork- Staten Island (CUNY)
Clarkson University
Clemson University
Colby Sawyer College
College Of Charleston
Colorado State University
Columbia University
Columbus State University
Contra Costa Community College
Cornell University
Dallas Baptist University
Dartmouth College
Dowling College
Drexel University
Drury University
Duke University
Edmonds College
Emory University
Everest University
Fairmont State University
FDU (Farleigh Dickinson University)
Ferris State University*
Fisher College
Florida Institute of Technology
Florida International University
Florida Southern College
Florida State University
Foothill and De Anza Colleges
Fort Hays State Univ.
French Culinary Institute of America
Gannon State University
George Mason University
Georgetown University
Georgia Institute of Technology
Globe University
Golden Gate University
Goldey Beacon College
Grand Canyon University
Green River Community College
Hamline University
Harvard University
Hawaii Pacific University
Henderson state University
Herguan Univ
High Point University
Hult International Business School
Illinois Eastern Community College
Indiana State University
Indiana University Bloomington
International Technological University
Iowa State University
Ivy Bridge College
Jacksonville University
James Madison University
Johnson & Wales University
Kansas State University
Kansas Wesleyan University
Kaplan University
Kent State University
Kettering University
Kutztown University
La Salle University
Lake Region State College
Lakeland College
Lawrence Technology University
Lesley University
Lewis University
Liberty University
Lock Haven University
Long Island University - CW Post Campus
Louisiana College
Louisiana State University - Baton Rouge
Lynn University
Manhattan College
Manhattan Institute of Management
Marist College
Massachusetts Institute of Technology (MIT)
Mayo Medical School
Medical University of South Carolina
Menlo College
Metropolitan College of New York
Michigan State University
Midland Lutheran College
Midwestern State University
Missouri University of Science & Technology
Montana State University
Montana State University - Billing
Monterey Institute of International Studies
Morehead State University
Mount Sinai School of Medicine
Mountain State University
Murray State Univ
Musicians Institute
National Aviation Academy
National University
New York University
NJIT(New Jersey Institute of Technology)
Norfolk State University
North American College
North Carolina State University - Raleigh
North Dakota State University
North Seattle Community College
Northern Arizona University
Northern Kentucky University
Northwest Missouri State University
Northwestern University
Notre Dame De Namur University
Nova Southeastern University
NY Film Academy
NYIT (New York Institute of Technology)
NYU Polytechnic University
Ohio University
Oklahoma Christian Univ
Oklahoma City University
Oregon Health and Science University
Oregon State University
Oregon State University
Pacific Lutheran University
Pacific States University
Pennsylvania State University - University Park
Pittsbrugh State University
Post University
Princeton University
Purdue University - West Lafayette
Purnell School (High School)
Rensselaer Polytechnic Institute
Rice University
Rider University
Robert Morris University
Rochester Institute of Technology
Rockefeller University
Rockhurst University
Rush University
Rutgers, The State University of New Jersey - New Brunswick
Sacred Heart University
Saginaw Valley State University
Saint Francis University
Saint Louis University
Saint Mary's University of Minnesota
Salem International University
San Diego State University
Santa Barbara City College
Schiller International University
Seattle City University
Silicon Valley Univ
Southeast Missouri State University
Southern California University of Health Sciences
Southern Illinois Univ@Carbondale
Southern New Hampshire University
Southern Oregon University
Southern Polytechnic State Univ
Southern States University
Spokane Falls Community College
St. Andrews Presbyterian College
St. Johns University
St. Louis University
St. Mary's College
St. Michael's College
St. Michael's College
St. Norbert College
Stanford University
State University of New York at Albany
State University of New York at Buffalo
State University of New York at Stony Brook
State University of New York Health Science Center at Brooklyn
State University of Newyork – Oneonta
Stevens Institute of Technology
Stratford Univ
SUNY-Fulton-Montgomery Community College
Syracuse University
Temple University
Tennessee Tech Univ
Texas A & M University Kingsville
Texas A&M University - College Station
Texas Tech University
The Art Institutes of America
The George Washington University
The Johns Hopkins University
The Ohio State University - Columbus
The University of Alabama at Birmingham
The University of Connecticut - Storrs
The University of Georgia
The University of Montana - Missoula
The University of New Mexico - Albuquerque
The University of Texas at Austin
The University of Texas at Dallas
The University of Texas Health Science Center at Houston
The University of Texas Health Science Center at San Antonio
The University of Texas M. D. Anderson Cancer Center
The University of Texas Medical Branch at Galveston
The University of Texas Southwestern Medical Center at Dallas
The university of Wisconsin-Eau Claire
Thomas College
Thomas Jefferson University
Tiffin University
Trine University
Troy University
Truman State University
Tufts University
Tulane University
U.S. Flight Academy
Univ of Northern Virginia
University of Alabama
University of Alabama - Brimingham
University of Arizona
University of Arkansas
University of Bridgeport
University of California – Riverside
University of California, Berkeley
University of California, Davis
University of California, Irvine
University of California, Los Angeles
University of California, Riverside
University of California, San Diego
University of California, San Francisco
University of California, Santa Barbara
University of California, Santa Cruz
University of Central Florida
University of Charleston
University of Chicago
University of Cincinnati
University of Colorado at Boulder
University of Colorado at Denver
University of Delaware
University of Evansville
University of Findlay
University of Florida
University of Hartford
University of Hawaii at Manoa
University of Houston
University of Illinois at Chicago
University of Illinois at Urbana-Champaign
University of Iowa
University of Kansas - Lawrence
University of Kentucky
University of La Verne (Homestay Only)
University of Mary Hardin Baylor
University of Maryland, Baltimore
University of Maryland, College Park
University of Massachusetts Amherst
University of Massachusetts Medical School - Worcester
University of Massachusetts, Boston
University of Massachusetts, Dartmouth
University of Massachusetts, Lowell
University of Medicine and Dentistry New Jersey
University of Miami
University of Michigan - Ann Arbor
University of Minnesota, Twin Cities
University of Missouri - Columbia
University of Nebraska - Lincoln
University of New Hampshire
University of New Haven
University of North Alabama
University of North Carolina at Chapel Hill
University of North Dakota
University of Northern Iowa
University of Notre Dame
University of Oregon
University of Pennsylvania
University of Pittsburgh
University of Rochester
University of Scranton
University of South Carolina - Columbia
University of South Florida
University of South Florida
University of Southern California
University of Southern Maine
University of Tennessee - Knoxville
University of the Pacific
University of Utah
University of Vermont
University of Virginia
University of Washington
University of Wisconsin – La Crosse
University of Wisconsin - Madison
University of Wisconsin - Superior
Upper Iowa University
Utica College (of Syracuse University)
Valparaiso University
Vanderbilt University
Virginia Commonwealth University
Virginia International University
Virginia Polytechnic Institute and State University
Washington State University - Pullman
Washington University in St. Louis
Wayne State University
Webber International University
Webster University
Wesley College
Western International University
Western Kentucky University*
Western New England College
Westminster College
Wheeling Jesuit University
Wichita state University
Wilkes University
Woodbury University
Wright State University
Yale University
Yeshiva University