New Zealand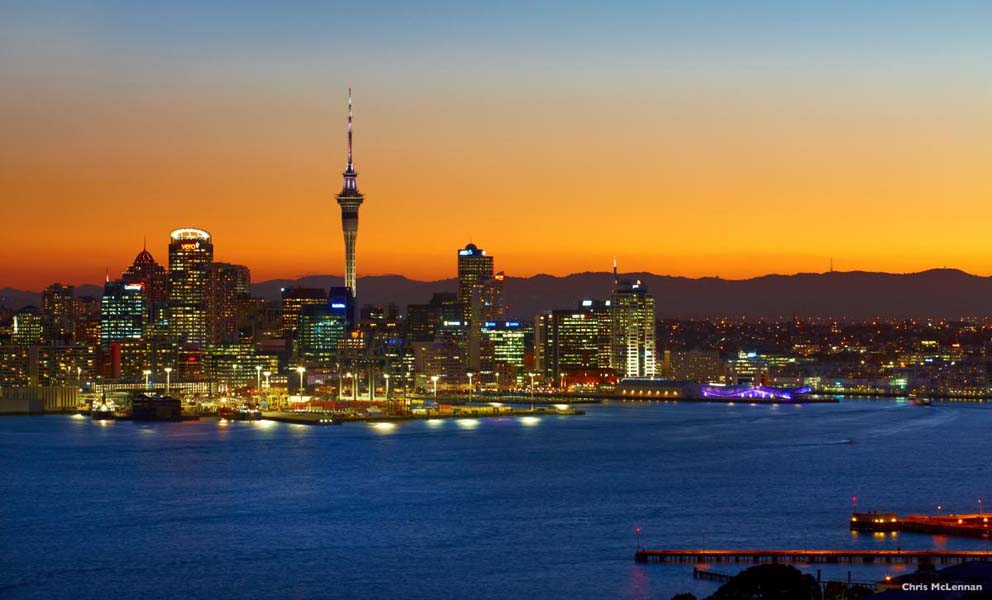 New Zealand is located in the Southwest Pacific Ocean and consists of two main Islands as well as a number of smaller ones. The principal Islands are the North and South Islands which are separated by the Cook Strait.
North Island has a mountainous center with many hot springs and volcanic peaks. South Island is much more mountainous with the Southern Alps, which has some 350 glaciers, running across the length of the Island. Much of the lowlands are broken and hilly while plains are not prominent on either Island.
Climate
New Zealand is in the southern hemisphere, so January and February are the warmest months, autumn is from March to May, winter is from June to August, and spring runs from September to November.
The climate is temperate with relatively mild, wet winters and warm, dry summers. The weather varies a lot between different regions – the far north is subtropical while the south gets icy wind straight from Antarctica. The far north of the country has an average temperature of about 15°C, while the Deep South has a cooler 9°C average.
New Zealand does not have a large temperature range, lacking the extremes that are found in most continental climates. However, the weather can change unexpectedly — as cold fronts or tropical cyclones quickly blow in.
Public Holidays
New Year's Day - January 1st
Day after New Year – January 2nd
Waitangi Day – February 6th
Good Friday – varies every year
Easter Monday – varies every year
ANZAC Day – April 25th
Queen's Birthday – 1st Monday in June
Labour Day – 4th Monday in October
Christmas Day – December 25th
Boxing Day – December 26th
Time Zones
New Zealand has two time zones.
The main Islands use New Zealand Standard Time (NZST) – 6:30 hours plus IST
Chatham Islands use Chatham Standard Time (CHAST) – 7:15 hours plus IST
History
Full name: New Zealand
Population: 4.9 million (2018 estimates)
Capital: Wellington
Largest city: Auckland
Area: 268,021 sq km
Official languages: English, Māori
Major religion: Christianity
Life expectancy: 76 years (men), 81 years (women)
Monetary unit: 1 NZ dollar ($NZ) = 100 cents
Main exports: Wool, food and dairy products, wood and paper products
GDP per capita (Average income of a country's citizens): $39,959 (Wikipedia, 2018)
Internet domain: .nz
International dialing code: +64
Why Study in NZ
World class Learning Institutions and World-wide recognition
New Zealand has an international reputation as a provider of quality education. It has a progressive education system with many state of the art facilities. It offers a safe learning environment with excellent study opportunities and support services for international students.
New Zealand produces top graduates who can take their place with confidence in the international arena in many disciplines. Sir Ernest Rutherford, who first split the atom, and Dr Bryan Barrett-Boyes, prominent international heart surgeon, are two examples of the caliber of New Zealand graduates.
Endless Study Choices
Education in New Zealand offers an attractive and stimulating academic environment. The institutions are diverse in size and location, and offer a wide range of general and specialist courses
Courses are available for academic, professional and vocational studies at New Zealand institutions - universities, polytechnics and institutes of technology, colleges of education, secondary schools and private training establishments.
Safe place to study & High Standards of Living
According to Global Peace Index (GPI), New Zealand is rated the most peaceful country in the world. New Zealand has received No.1 ranking on GPI for two consecutive years.
New Zealanders are famed for their friendliness, hospitality and warmth to overseas visitors, and enjoy meeting folk from other cultures. A great variety of recreational and cultural experiences are available in a country renowned for its natural rugged beauty, yet without any dangerous animals.
New Zealand offers a safe and stable democratic political environment. New Zealand does not have high crime rates. Police in New Zealand don't carry guns and instances of corruption are virtually unheard of. They don't have abject poverty or hunger, pollution, congestion, health issues and cramped city living that is seen elsewhere.
According to NatWest International Personal Banking Quality of Life Index, New Zealand is ranked as a good place to live, work, and study. It was ranked highly on the basis that it has an affordable cost of living that offers residents a high standard of living.
Univeristies in NZ
Universities

Auckland University of Technology (Auckland)

Lincoln University (Lincoln, Canterbury)

Massey University (Palmerston North, Auckland, Wellington)

University of Auckland (Auckland)

University of Canterbury (Christchurch)

University of Otago (Dunedin)

University of Waikato (Hamilton)

Victoria University of Wellington (Wellington)
Polytechnics

Aoraki Polytechnic, Canterbury

Bay of Plenty Polytechnic, Bay of Plenty

Christchurch Polytechnic Institute of Technology, Christchurch

Eastern Institute of Technology, Napier

Mahurangi Technical Institute

Manukau Institute of Technology, Auckland

Nelson Marlborough Institute of Technology, Nelson

NorthTec, Whangarei

Otago Polytechnic, Dunedin

Southern Institute of Technology, Southland

Tai Poutini Polytechnic, Greymouth

Tairawhiti Polytechnic, Gisborne

Telford Rural Polytechnic, Otago

The Open Polytechnic of New Zealand, Wellington

Unitec New Zealand, Auckland

Universal College of Learning, Palmerston North

Waiariki Institute of Technology, Rotorua

Waikato Institute of Technology, Hamilton

Wairarapa Community Polytechnic, Wairarapa

Wellington Institute of Technology, Wellington

Western Institute of Technology, Taranaki

Whitireia Community Polytechnic, Whitireia