Singapore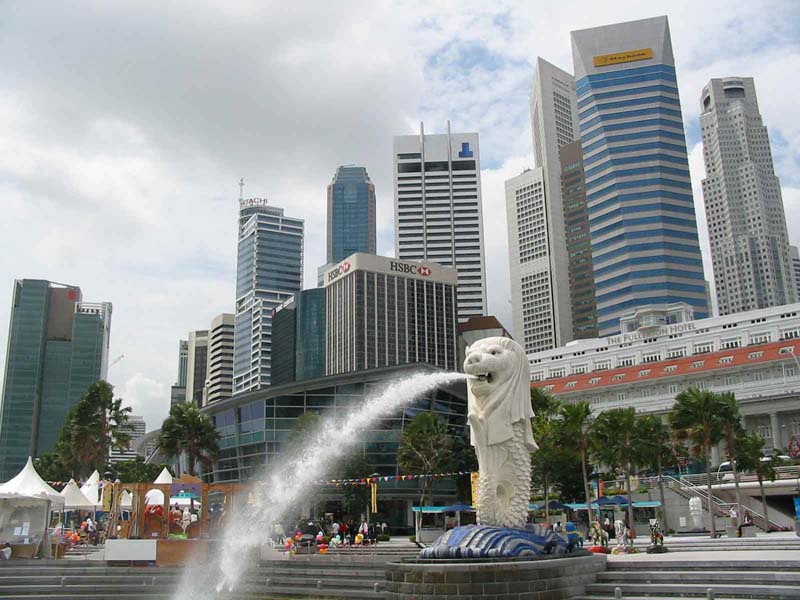 Climate
Singapore has a tropical rainforest climate with no distinctive seasons, uniform temperature and pressure, high humidity, and abundant rainfall. Temperatures range from 22 to 34 °C (71.6 to 93.2 °F).
May and June are the hottest months, while November and December make up the wetter monsoon season. However, there is rainfall throughout the year. From August to October, there is often haze, sometimes severe enough to prompt public health warnings, due to bush fires in neighbouring Indonesia.
Culture
Due to its diverse population and immigrant background, Singaporean culture has often been described as a mix of cultures – British, Malay, Chinese, Indian and Peranakan. Foreigners also make up 42% of the population in Singapore and they play an important role in influencing Singaporean culture.
Food
Singaporean cuisine is an example of the country's diversity and cultural diffusion; with significant influences from British, Chinese, Indian, Malay, Tamil cuisine, and Indonesian cuisine. Typical Singaporean food includes the satay, nasilemak, fish and chips and the famed Hainanese chicken rice.
While there are fancy restaurants offering every kind of cuisine, there are also fast food chains, hawker centers where you can have a very satisfying meal for a few dollars. You can have Chinese noodles, with an Indian curry & a Malay side dish followed by a French dessert.
Public Holidays
New Year's Day – January 1st
Chinese New Year – 1st and 2nd days of Chinese calendar
Good Friday – varies every year
Labour Day – May 1st
Vesak Day (Birth of Buddha) – varies every year
National Day – August 9th (Singapore Independence Day)
Hari Raya Puasa (End of Ramadan month) – varies every year
Deepavali (Hindu Holiday) – varies every year
Hari Raya Haji (Feast of the Sacrifice) – varies every year
Christmas Day – December 25th
Time Zones
Singapore Standard Time (SST) – 2:30 hours plus IST
* IST – Indian Standard Time
Facts
Full name: Republic of Singapore
Population: 5.61 million (2017 estimates)
Capital: Singapore
Area: 710.2 sq km
Official languages: English, Malay, Mandarin Chinese, Tamil
Major religion: Buddhism
Life expectancy: 78 years (men), 82 years (women)
Monetary unit: 1 Singapore dollar SGD)
Main exports: machinery and equipment, electronics, consumer goods, pharmaceuticals, chemicals, and mineral fuels
GNI per capita(Average income of a country's citizens): $98,014 (Wikipedia, 2018) Ranked 3rdRank in the World
Internet domain: .sg
International dialing code: +65
Why Study in Singapore?
Singapore is the fifth wealthiest country in the world in terms of GDP and per capita income. Unemployment rate in Singapore is one of the lowest in the world. With a dynamic and high-spirited life and work culture, Singapore has become a cosmopolitan destination.
2nd safest Country to live & Crime Free Country
The cleanest country
HUB of Business in Asia – Fertile ground for Banking & Service Industry.
World's No.1 producer of Electronics, Shipping, Logistics & Bunker Oil
Almost every MNC has its Asia-Pacific Head Office in Singapore making it easier for students to find jobs. I.e., Home to more than 7000 MNC's.
Growing steadily at more than 5% rate for many decades with strong links to US, EU, China, India & Japan.
The 25th best highly developed nation with state-of-art transport system & 3G telecom network that's second only to USA.
Singapore is a nation built by immigrants and it still welcomes all who are keen to play a part in its economic development.
Singapore offers globally top ranked working populace, recognized for its high level of productivity, technical proficiency & positive work attitude.
Singaporeans don't need a VISA to enter about 60 Countries including USA & EU.
Processing for PR (Permanent Residency) takes only 71 Days.
Singapore is ideally located as the gateway to regional countries such as Malaysia, Indonesia, Philippines, Brunei & Thailand. All are easily reached via Ferry, Train, plane or even coach with travel times being no longer than three hours.
Singapore is the world's 3rd wired nation and Asia's most wired one where online banking & mobile lifestyle have become the norm.
Close to 99% of the population or almost every home, school & business has access to Broadband Internet.
There are already more than 50,000 International students in Singapore, of which about 2000 are Indian Students pursuing educations at various levels.
Many international students are attracted to the quality UG & PG programs offered by Singapore's local Universities as well as International Universities based in Singapore.
Univeristies in Singapore
Universities
National University of Singapore
Nanyang Technological University
Singapore Management University
SIM University
Polytechnics
Singapore polytechnic
Ngee Ann Polytechnic
Temasek Polytechnic
Nanyang Polytechnic
Republic Polytechnic
Other Institutions providing undergraduate and postgraduate degrees courses
Asia Pacific Centre for Management Leadership
Auston Institute
BMC Academy
Design Technology Institute
East Asia Institute of Management
German Institute of Science and Technology
Informatics Academy
Johns Hopkins in Singapore, Division of Biomedical Sciences
Kaplan Singapore
Management Development Institute of Singapore
Marketing Institute of Singapore
National Institute of Education
NTU-SJTU Joint EMBA Programme
PSB Academy
Singapore Delft Water Alliance
Singapore Institute of Commerce
Singapore Institute of Management
Singapore Stanford Partnership
Singapore-MIT Alliance
SMa School of Management
Stansfield College
The Logistics Institute - Asia Pacific
TMC Academy
Tourism Management Institute of Singapore (TMIS)
Wharton–SMU Research Center