Australia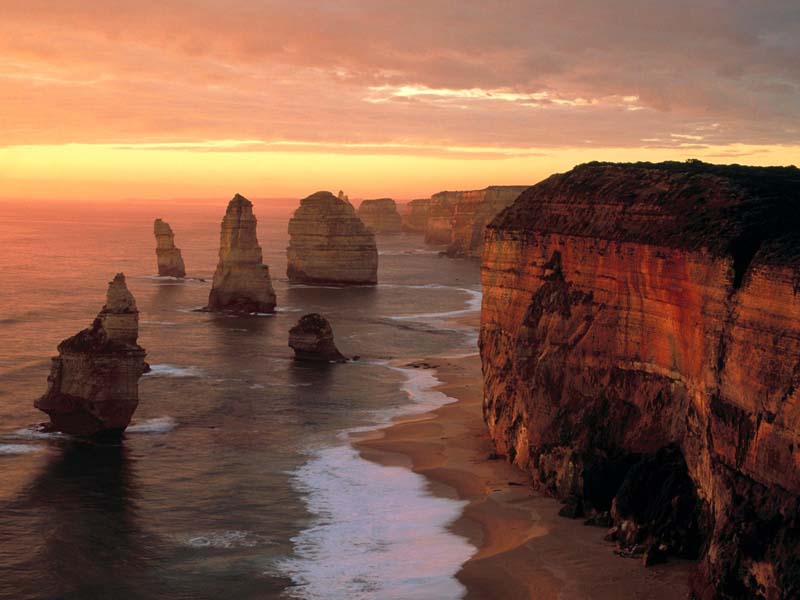 Modern Australia was founded with the influx of European settlers just over two hundred years ago, but the Aborigines inhabited the island continent for tens of thousands of years before that.

They numbered a few hundred thousand before the European influx. But two centuries of discrimination and expropriation followed, and at one point the indigenous population fell as low as 60,000. Australia's politicians at first looked to Europe and the US in foreign policy, but in the past 20 years or so they have made their near neighbors a priority.
Multiculturalism
The people in Australia came from over 100 different countries around the world with their own cultures, ethics and languages. They formed different cultural groups that made Australia a multicultural nation, which was adopted since 1970. As there are different cultural groups, Australian government implemented the cultural policy in the country to control the society and its ethics. There is a multicultural national literature in Australia. There are 26.4% of Catholics, 20.5% of Anglicans, 20.5% of other Christians, 1.9% of Buddhists, 1.5% of Muslims, 1.2% of other religions, 12.7%, of unspecified religions in Australia. This has resulted students from different countries with different cultures to choose Australia for their higher education.
Job Market
The prediction of job opportunities for international students in Australia is associated with the comprehensive visa requirements. In Australia there is good scope for various professions including doctors, teachers, accountants, plumbers, nurses, carpenters, dentists and IT managers. You can get the complete information on the applications of visas migration on Department of Immigration and Citizenship website. There are good opportunities for the graduates who secure permanent residence in Australia. You can get further details about graduate destinations on Graduate Careers Australia.
Tourism
Tourism is the large sector of the economy in Australia, which was merged as a crucial industry. For the years 2002, 2003, 2004 Australia has produced world's 10th biggest revenue from the tourism. Every year about 4 billion tourists visit Australia and Australians itself are the big domestic travelers. Australia combines an abundance of landscapes. These comprise of deserts in the interior, hills, mountains, tropical rain forests and densely populated coastal strips with long beaches. Distinct from other continents, Australia has wide variety of unique plants and animal life. Find more–Australian Tourism
Facts
Full name: Commonwealth of Australia
Population: 25 million (UN, 2018)
Capital: Canberra
Largest city: Sydney
Area: 7.7 million sq km (2.9 million sq miles)
Major language: English
Major religion: Christianity
Life expectancy: 79 years (men), 84 years (women) (UN)
Monetary unit: 1 Australian dollar = 100 cents
Main exports: Ores and metals; wool, food and live animals; fuels, transport machinery and equipment
GDP per capita (Average income of a country's citizens):$52,191 (Wikipedia, 2018) Ranked 17th in the World
Internet domain: .au
International dialing code: +61
Why Study in Australia?
Australia has one of the highest standards of living in the world. It is an English-speaking country with a population of about 25 million. It is home to people from over 190 countries, and at least one in five Australians was born overseas. Cultural diversity is part of its national identity and is one of Australia's greatest strengths.
The major reason why students choose to study in Australian universities is for its high quality of lifestyle and education. The Australian lifestyle will be hassle-free and more relaxed. This helps students to enhance their studies without any tension. Another reason for choosing Australia is for its cost efficiency. The education and living expenditure in Australia will be comparatively 40 to 60 percent less than that of USA/UK, varying with the location. Among various study courses, Indian students prefer technology and management programs and accountancy in addition to the management subjects.
Australia is the next 'hot' destination after the USA, in terms of numbers, quality and living conditions. Every year, several thousand students from India (63,604 in 2007) and throughout the world go to Australia, for world-class education, which is recognized globally and that has top-class and highly ranked universities. Australian universities and training institutions offer a wide range of courses to met most aspirations and requirements. The curriculum and infrastructure are the latest while the faculty is up-to-date and progressive in outlook and result-oriented.
The excellence in Education, the multicultural background of students, value for money, English speaking country and on top of that, Governmental and institution support for international students are some other aspects that has made Australia a very attractive destination for students from all over the world.
One excellent advantage for Indian students is the similarity between Indian and Australian education systems, which are broadly patterned on the British education system. Therefore, it is easier for admission into any level without the hassle of credential evaluation, university review of qualifications etc. Also, because of flexibility in their education system, students who have completed two years of Bachelors/Diploma could enroll directly into the 2ndor 3rdyear of Bachelor's program in Australian institutions. Australian degrees are recognized by the Association of Indian Universities for purposes of government employment and further education in an Indian university.
Universities in Australia
There are a total of 39 universities in Australia, including 37 Public and 2 private universities. The following two are Private universities;
1. Bond University, WaggaWagga
2. University of Notre Dame
Note: Cranfield University (UK) and Carnegie Mellon University (USA) have started a Business Development office and a college respectively and hence did not come in the total list of Australian universities.
Universities in Australia
New South Wales
Victoria
Queensland
Western Australia
South Australia
Tasmania
Northern Territory
Australian Capital Territory
Multi-State